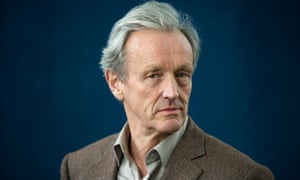 A lifetime of travelling, and detailing the sights, smells and sounds of the experience has led Colin Thubron to write more than 15 travel books, primarily on Central Asia, Russia and China. Now, after five decades as a travel writer and novelist, Thubron, 79, has received the 2019 Edward Stanford Award for Outstanding Contribution to Travel Writing at a ceremony in Mayfair, London.
Thubron's travel books include his 1967 debut Mirror to Damascus, as well as Among the Russians, In Siberia, Shadow of the Silk Road, and 2011's To a Mountain in Tibet. He joins Jan Morris, Bill Bryson and Michael Palin in being a recipient of the outstanding contribution award.
Praising Thubron, Vivien Godfrey, chair and chief executive of Stanfords, said:
"Colin has always written about rarely visited parts of our planet. He writes in a magical way allowing the reader to feel truly immersed in each place he's visited."
Stanfords, a specialist bookshop of maps and travel books, which moved to a new London location in January, also announced a number of other awards, including the Stanford Dolman Travel Book of the Year, which went to William Atkins for The Immeasurable World, a book based around desert journeys across five continents over three years.
Adam Weymouth picked up the award for the Lonely Planet Adventure Travel Book of the Year, for his account of a 2,000-mile canoe journey along the largest salmon run in the world in Kings of the Yukon. Read an extract from Weymouth's award-winning book here.
Regular Guardian Travel contributor Caroline Eden's evocative Black Sea: Dispatches and Recipes – Through Darkness and Light won Travel Food and Drink Book of the Year and was praised for its mix of meticulous research and beautiful photography as Eden details the culinary cities of Odessa, Trabzon and Istanbul.
We made a choice…
… and we want to tell you about it. We made a choice which means our journalism now reaches record numbers around the world and more than a million people have supported our reporting. We continue to face financial challenges but, unlike many news organisations, we have chosen not to put up a paywall. We want our journalism to remain accessible to all, regardless of where they live or what they can afford.
This is The Guardian's choice: a model for open, independent journalism – free for those who can't afford it, supported by those who can. We depend on contributions from our readers. Will you support our choice?
Readers' support powers our work, safeguarding our essential editorial independence. This means the responsibility of protecting independent journalism is shared, enabling us all to feel empowered to bring about real change in the world. Your support gives Guardian journalists the time, space and freedom to report with tenacity and rigour, to shed light where others won't. It emboldens us to challenge authority and question the status quo. And by keeping all of our journalism free and open to all, we can foster inclusivity, diversity, make space for debate, inspire conversation – so more people have access to accurate information with integrity at its heart.
Guardian journalism is rooted in facts with a progressive perspective on the world. We are editorially independent, meaning we set our own agenda. Our journalism is free from commercial bias and not influenced by billionaire owners, politicians or shareholders. No one steers our opinion. At a time when there are so few sources of information you can really trust, this is vital as it enables us to give a voice to those less heard, challenge the powerful and hold them to account. Your support means we can keep investigating and exploring the critical issues of our time.
Our model allows people to support us in a way that works for them. Every time a reader like you makes a contribution to The Guardian, no matter how big or small, it goes directly into funding our journalism. But we need to build on this support for the years ahead. Support The Guardian from as little as $1 – and it only takes a minute. Thank you.